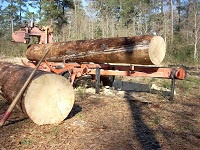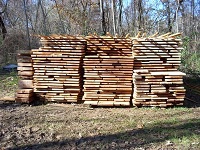 My sawmilling service is usually based on a "per board feet" of lumber sawn. Hourly rates is generally more acceptable for sawing Eastern Red Cedar or special dimension lumber or beams.

A $25 blade charge is applied anytime a saw blade is ruined by hitting metal or any foreign object in a log. This is most commonly nails, screws, and wire.

For travel distances over 20 miles a one time setup fee may apply.

Payment by cash or personal check will be expected upon completion of the saw job.


Log/Lumber Yield:

A board foot is defined as being 1" thick and 12" wide and 12" long or 144 cubic inches of wood. So a board 1" thick by 12" wide by 8' long contains 8 board feet. A standard 2X4 - 8' stud contains 5.3 board feet. Learn More

Since my sawmill uses a 1/8" thick blade instead of the normal ¼" commercial sawmill blade, your actual lumber yield will generally be greater that Doyle scaled logs. Learn More


Air Drying Lumber:

Getting rid of the moisture in lumber requires sticker stacking and good air circulation. Lumber should be sticker stacked soon after milling. My suggestion is within a few days in most cases. Learn More

Pricing

© Copyright 2010
Knothole Sawmill, LLC - Hosting by Galaxy Host

Knothole Sawmill

Turning your logs into lumber at your location

Want to learn more about sawmill's, Sawyers and the sawmill trade?
Visit Saw Bucks where you can find me, AKA "Magicman".

Please note that I do not buy logs, sell lumber, or saw on shares.