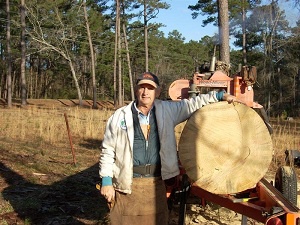 Knothole Sawmill, LLC

Lynn Davis, Master Sawyer
208 W. Meadowbrook Dr.
Brookhaven, Ms, 39601

email; knotholesawmill@gmail.com
Home 601-833-1156
Cell 601-757-1681

Thanks for taking the time to contact me. Please call on the phone, use the form below, e-mail or the Postal Service and let me know how I can help you.

© Copyright 2010
Knothole Sawmill, LLC - Hosting by Galaxy Host

Knothole Sawmill

Turning your logs into lumber at your location

Want to learn more about sawmill's, Sawyers and the sawmill trade?
Visit Saw Bucks where you can find me, AKA "Magicman".

Please note that I do not buy logs, sell lumber, or saw on shares.